Have you ever thought about Scandinavia as a place where the Baroque music is researched and performed? Have you ever wondered about travelling to Norway to hear music played by the mayor figures in the field of Western early music? As my friends' answers to these questions show our thinking about the European music, its traditions and centers of performance is still full of stereotypes. However, shattering myths connected with the early music gives me a lot of pleasure, especially when I can take part in some well-organized and interesting music events.
Barokkfest is a festival of Baroque music, held annually in Trondheim at the beginning of February since 2013. This year's edition impressed its guests with a focus on rarely played in Norway French Baroque music and production of two operas: Rameau's Pygmalion and Blow's Venus and Adonis. So who and what stays behind these striking productions and the success of the festival? What makes it so special in the world of early music?
Artistic cooperation and a sister festival SPOR
Even though the Barokkfest is still a quite young festival, it has already established its sister festival SPOR. SPOR, which in Norwegian means footstep, mark, track, is a festival for the history of ideas and translated literature. Thea Selliaas Thorsen, festival's artistic director, is a writer, translator and professor in Latin at the Norwegian University of Science and Technology in Trondheim. What is worth underlying, two festivals announced their cohesive program of events that took place during the same week. I think the idea of this kind of cooperation is really valuable and should definitely be continued as long as it can help us understand music and its context. For instance, SPOR organized a few different lectures before staging of the opera Pygmalion. They all focused on different aspects of the history of Pygmalion described in the Ovid's narrative poem Metamorphoses and were a great introduction to the Rameau's opera.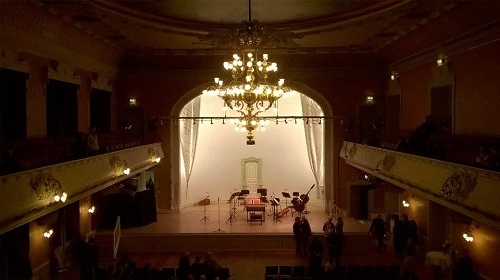 The Masonic Lodge in Trondheim / photo: Iwona Granacka
People with passion
What really makes the Barokkfest such a successful cultural project is a group of people who are responsible for organization of the festival. We can find scholars, academic teachers, students of musicology as well as musicians among them. It's quite an unusual experience to meet one of the producers in the festival's office while tuning his theorbo or see the director of the festival playing the cello during the performance of the opera. Martin Wåhlberg, Barokkfest's director is a musicologist specializing in the French musical culture of the 17th and 18th century who plays the Baroque cello in the ensemble Trondheim Barokk together with one of the producers and lutist Erik Skanke Høsøien. To observe engagement and passion of all the members of organizing committee was a truly fantastic experience.
The idea carved in stone
In this year's edition the real highlight of the festival was the staging of Rameau's masterpiece – opera Pygmalion. The Baroque opera, as a piece written for quite a small group of musicians, with pared-down scenography needs a special venue. Hearing that it would be staged in the old stone carving workshop where a group of craftsmen still works on renovating some architectural elements from Nidaros Cathedral, I was very intrigued. Moreover, Pygmalion tells the story of the sculptor who carved a woman out of ivory and fell in love with her, so the real workshop seemed to be the perfect place to stage this work of art. In order to organize the opera's staging, Barokkfest invited the best musicians and dancers from the whole Europe, including a French cembalist and conductor Christophe Rousset, a Swedish tenor Anders J. Dahlin and a Norwegian soprano Ingeborg Dalheim. It was an unusual experience for listeners, as well as for musicians and the conductor to perform in such a cozy place and for a small audience. Nevertheless, they performed at the highest artistic level and managed to create a unique atmosphere.
Jordi Savall / Marin Marais –
Les folies d'Espagne
The other highlight of the festival was the concert of Jordi Savall and Rolf Lislevand in Nidaros Cathedral. Savall has visited Norway before with his ensemble Hesperion 21, but it was the first time the audience in Trondheim could hear him play viola da gamba solo or together with Lislevand's accompaniment. The program of the concert was quite varied, including compositions written by Diego Ortiz, Francesco Corbetta and Tobias Hume. They also played some Marin Marais' pieces which a lot of people can remember from the great French movie All the Mornings of the World (Tous les matins du monde). In my opinion, the most impressive and virtuoso part of the concert was after the break, during which Jordi Savall prepared his viola da gamba to play a few 17th-century pieces in bagpipe tuning. People gathered in Nidaros Cathedral were simply enchanted and awarded the musicians with a standing ovation at the end of the concert.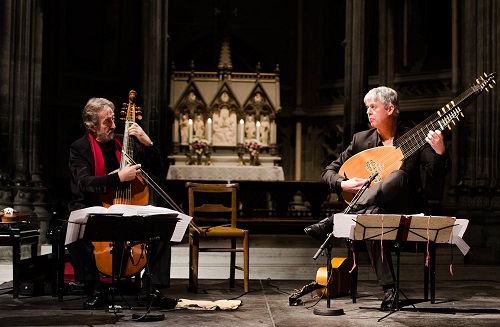 Jordi Savall and Rolf Lislevand in Nidaros Cathedral / fot. Øyvind Aak
Masters and disciples
What is also worth mentioning, Barokkfest focused not only on the mayor figures in the field of Western early music while planning their program, but some younger artists and ensembles were also invited to perform during the festival. At the opening concert we could hear a youth orchestra (Lørdagsskolens kammerorkester) playing Vivaldi's concerto no. 10 from L'Estro Armonico op. 3. Even though they didn't play the period instruments, they performed with a great energy and created a wonderful interpretation. During the festival another opera, John Blow's Venus and Adonis was staged by scholars of Young Artists' Gloger Academy together with another Youth Baroque Orchestra (Ungdommens Barokkorkester). Despite some small shortcomings they showed their great talents and I'm sure that we will hear about them in a few years time.
Undoubtedly, it was a wonderful experience to take part in all music events during the festival, meet so many talented artists and broaden my musical horizons. Personally, I think that some well-established festivals of the Baroque music in Europe can learn a lot from the directors of Barokkfest and SPOR. If you want to experience a beautiful winter, and enjoy the early music performed by the best musicians you should definitely visit Trondheim next year!