What is it about Maria Szymanowska that attracts so much attention of scholars and musicians alike? Is it her personal charm, as depicted in the numerous portrait? Is it the sentimental or virtuosic quality of her music? Is it the association with the"stars" of Polish romanticism, Fryderyk Chopin and Adam Mickiewicz? Maybe a little bit of all… The 3rd International Symposium, Maria Szymanowska (1789-1831) and Her Times placed the celebrated pianist-composer in a different context, among her female colleagues, mentors, and peers (3e Colloque international Maria Szymanowska (1789-1831) et son temps).  The Symposium took place on 25-27 November 2015 at the Polish Academy of Sciences' Paris Center (74, rue Lauriston, Paris 16e), the site of two earlier conferences cosponsored by Maria Szymanowska Society in 2011 and 2014. This edition of the Szymanowska Symposium was dedicated to "Talents of Women: Myths and Reality" ("Talents au féminin: Mythes et réalité").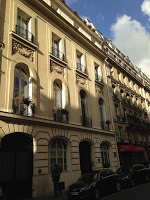 Polish Academy of Sciences, Paris Center, 74 Rue Lauriston, Paris
The event was opened by the Director of the Paris Center of the Polish Academy of Sciences, Dr. Marek WIĘCKOWSKI with a minute of silence as a tribute to the recent victims of terrorist attacks. The proceedings were moderated by the President of the Maria Szymanowska Society, singer Elisabeth ZAPOLSKA-CHAPELLE.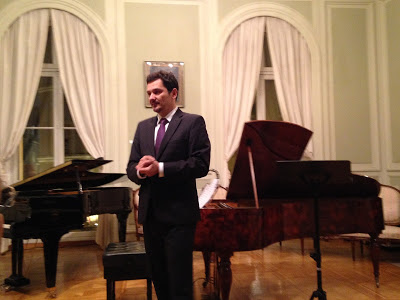 Dr. Marek Wieckowski, Director of PAN – Paris Center 
Their haunting performance of The Lament of a Blind Beggar (Complainte d'un aveugle qui demandait l'aumône au Jardin du Roi à Paris) honored Prof. Irena Poniatowska of the Chopin Institute in Warsaw, who discovered this lost work in Paris archives. Zapolska's half-recital was a tour de force of songs by women: Annette von Droste-Hülshoff (1797-1848), Maria Theresia von Paradis (1759-1824), Hortense de Beauharnais (1783 – 1837), Hélène de Montgeroult (1764-1836), Isabelle de Charrière (1740-1805),  Louise Reichardt (1779-1826), Sophie Gail (1775-1819), and  Fanny Hensel née Mendelssohn (1809-1847).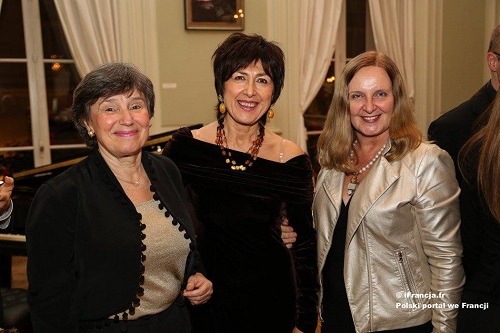 Afte
r the concert: Francoise Tillard, Elizabeth Zapolska and Maja Trochimczyk
In the second half of the program, an international group of pianists brought to life pieces long forgotten but deserving our attention because of their historical importance and musical merits. Bart VAN OORT juxtaposed the expressive and capricious virtuosity of Szymanowska's Romance du Prince Galitzine with technical prowess and brilliance of the Fourth Sonata by Hélène de Montgeroult (1764-1836). The same two composers were featured by Claudia Dafne SEVILLA CARRION, the youngest of the performers. Marcia HADJIMARKOS presented Szymanowska's Polonaise in F minor and a Mazurka in new colors; while Edoardo TORBIANELLI focused exclusively on the music of a Swiss composer, Caroline Boissier-Butini (1786-1836). After revealing the depth of influence of Chopin and Szymanowska on the "mazurka-and-nocturne" style of the  young Clara Wieck (later Schumann), Petra SOMLAI joined forces with Bar van OORT in a delightful setting for three hands of Szymanowska's Nocturne "Le Murmure."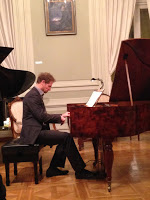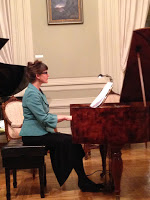 Marcia Hadjimarkos and Edoardo Torbianelli perform on November 25, 2015.
Two musicians preferred the rich volume of sounds of a modern Bechstein to the sophisticated diversity of sonorities of the Graff: Francoise TILLARD, an expert on the music of Fanny Hensel née Mendelssohn (1809-1847).  Bechstein was also the instrument of choice of a Russian virtuoso, Ekaterina GLAZOVSKAYA, who showed the beauties of the traditional piano performance during a short, 30 minute mini-recital held on the following day. It was one of the master-touches of the program design that the pianists were invited to prepare mini-recitals of up to 30 minutes to be interspersed between scholarly presentations during the two days of the conference. In this way, the music by a given composer was heard before it was discussed and the audience was keenly aware of the artistic value of the works research and analyzed by scholars.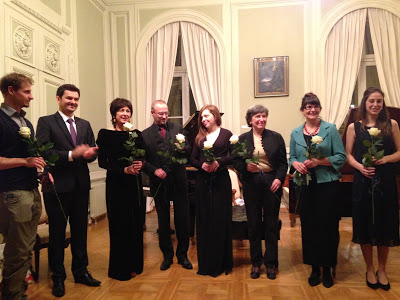 L to R: Edoardo Torbianelli, Director Marek Wieckowski, Elizabeth Zapolska-Chapelle, Bart van Oort, Petra Somlai, Francois Tillard, Marcia Hadjimarkos, and Claudia Dafne Sevilla Carrion. 
On Thursday, November 26, the first of the mini-recitals, subtitled Première madeleine musicale, was given by Marcia HADJIMARKOS, an internationally recognized specialist in the early piano and clavichord.  She mastered the techniques needed to bring out the sonorous richness of keyboard instruments as different as the earliest Florentine keyboard, to modern piano, with special emphasis on the clavichord, the square piano, 18th-century Viennese and German pianos, and French pianos of the late 19th- and early 20th centuries. (http://marciahadjimarkos.com). She surrounded five dances by Szymanowska (A Contre-danse, two Anglaises, a Mazurka and a Polonaise in E minor) with music by Maria Hester Park (1760-1813) and Marianna Martinez  (1744-1812).
Two works by Szymanowska (Prélude No. 8 in E-flat Major, and No. 9 in B-flat Major) were heard during the Deuxième madeleine musicale – interpreted by a Spanish pianist, Claudia Dafne SEVILLA  CARRION, who studied in Paris at the École Normale Supérieure de Musique since 2011. Currently, she is preparing a Master Forte-piano interpretation at the Sorbonne University and is continuing her research on the composer Santiago de Masarnau (1805-1880).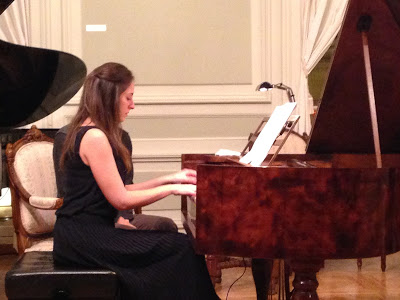 Claudia Dafne Sevilla Carrion performing.
The Troisième madeleine musicale by Ekaterina GLAZOVSKAYA  on the Bechstein piano consisted of two Polonaises by Michal Kleofas Ogiński (1765-1833), no. 17 and the "Favorite" No. 1, as well as three works by Szymanowska: Preludes No. 1 and No.3, and a Barcarolle. Mz. Glazovskaya has won several prizes in international piano competitions (Maria Canals, Claude Kahn, Val Tidone, Picardie EMC). After graduating from the Belarusian Academy of Music, she studied at the Regional Conservatory of Paris She currently gives concerts across Europe and teaches piano in Paris.  Her hauntingly expressive rendition of Ogiński's Polonaises highlighted their melancholy tone; distant from the sparklingly brilliant Preludes and the sentimental Barcarole of Szymanowska.  Perhaps, it is time to create a Michal Kleofas Ogiński Society to promote the music of this nearly forgotten composer? The problem is though that his oeuvre is so small: just 24 polonaises and an unpublished opera written for a celebration at the Czartoryski estate in Pulawy.
The final, Quatrième madeleine musicale performed by Edoardo TORBIANELLI introduced the audience to Szymanowska's virtuosic and poignant Polonaise sur l'air national favori de feu Prince Joseph Poniatowski, a fallen hero of Polish battles for independence and a member of Napoleonic troops. If hearing the Polonaise was not enough, a revelation awaited for the conclusion of the recital, with Caprice et variations sur un air bohémien by a nearly completely forgotten (and unjustly so!) Swiss composer, Caroline Boissier-Butini (1786-1831).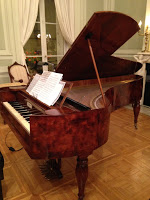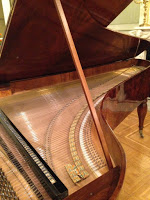 Johann Alois Graff fortepiano from 1825.
The discovery of the harmonic and forma sophistication of Boissier-Butini's music was one of the lasting results of the Szymanowska conference for many participants who have never heard about this composer, nor have ever been able to experience her music. Dr. Irène MINDER-JEANNERET placed Boissier-Butini's music between cosmopolitanism and patriotism as she outlined the composer's approach to "national melodies" ("Entre cosmopolitisme et patriotisme : les « airs nationaux »  dans les compositions de Caroline Boissier-Butini, 1786-1836") including Swiss, Scottish and Bohemian tunes, as well as Variations on the Dabrowski Mazurka, a song associated with the Polish Legion of the Napoleonic Armies, and since 1926 Poland's anthem. Beautifully crafted and expressive variations should be known by all Poles; it is remarkable that a Swiss romantic composer found so many charms and inspirations in the symbol of Polish independence. 
Dr. Irene Minder-Jeanneret with Edoardo Torbianelli
Scholarly presentations filled November 26 and 27, and took the listeners on a tour of issues pertaining to women's creativity, illustrated with papers about specific neglected composers and including three presentations about Maria Szymanowska.  
Dr. Maria STOLARZEWICZ, a researcher at the University of Weimar-Jena, and graduate of the University of Warsaw and Humboldt University in Berlin, focused on the "History of a musical friendship: Michał Kleofas Oginski and Maria Szymanowska."  She had previously discussed the relationship between Szymanowska and the King of German Romantic poetry, Johann Wolfgang von Goethe (2014), basing her study on many unknown sources.  The discussion of Oginski's contacts with Szymanowska was no less exhaustively researched, but with fewer material findings, as their letters did not survive.  What did survive is the music, the 24 Polonaises of Oginski being an "outlier" in Polish music history, with their tone of nostalgia and sorrow, later assumed by Chopin's Mazurkas.  At her recitals, Szymanowska was repeatedly asked to play the Polonaise Favorite of the exiled Count who left Poland.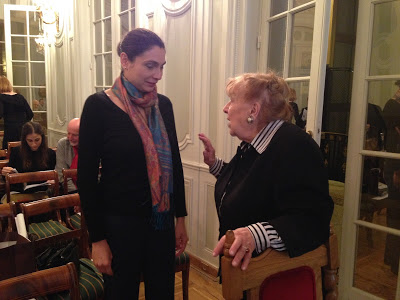 Dr. Stolarzewicz with Prof. Irena Poniatowska
In my paper about  "Szymanowska in the Circle of Duchess Maria Czartoryska de Wittemberg" I set to revisit the pianist's association with the Duchess's Azure Salons, held in Warsaw in 1808-1816 and gathering the creme-de-creme of Poland's literary society, led by Kazimierz Kozmian and Julian Ursyn Niemcewicz.  In my 2014 presentation, I studied Szymanowska's contribution to "Spiewy Historyczne" (Historical Chants) by Niemcewicz, a blockbuster of Polish literature and music for the next hundred years (undoubtedly the most popular and often reprinted literary and musical publication in Poland).  My review of other composers of the over 30 songs included in this monumental volume pointed to the genesis of the whole collection in the Czartoryska-Wirtemberska circle of glitterati and aristocrats.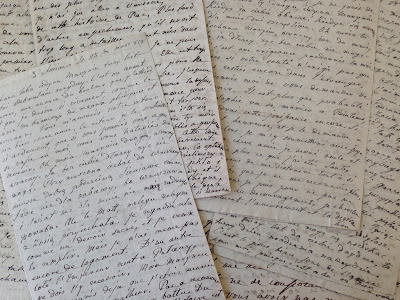 Letters of Maria Czartoryska-Wirtemberska. The Czartoryski Library. 
Searching for confirmation of closer links between the two Marias I visited the archives of the Czartoryski Library in Krakow, where I reviewed family letters and other writings of Czartoryska-Wirtemberska, including letters to and from her mother, Izabella Czartoryski; her sister, Countess Zofia Zamoyska, and her illegitimate half-sister and foster daughter, Cecylia Beydale.  Unfortunately, I found no mentions of Maria Szymanowska; though I was pleased to notice that the unpublished correspondence provides a wealth of information about Polish culture in the 1800-1830s and casts a peculiar light at the intense relationship between the women, connected with secret bonds and tragedies. I concluded that Szymanowska was closer to Zofia Zamoyska than Wirtemberska, but she was also a personal friend of several other composers represented in Spiewy Historyczne.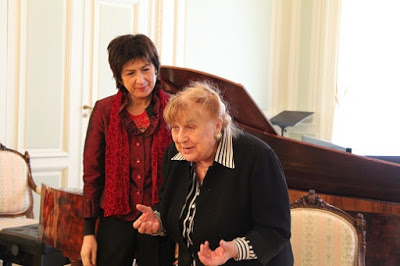 Elizabeth Zapolska with Prof. Irena Poniatowska
Thanks to my search for Szymanowska's musical associates from the Czartoryski circle, I was able to update the historical record about four of these composers: 
Konstancja Narbut Dembowska (now identified as Czartoryski's resident, author of a Prayer Book for Maria Wirtemberska, and the wife of General Dembowski), 
Count Rzewuski (whom I identified as Count Henryk Rzewuski, the author of Memories of Soplica and a proponent of Sarmatian culture, and not Count Waclaw Rzewuski, a noted Orientalist); 
Cecylia Beydale (whom I previously identified as Wirtemberska's natural daughter, but was actually the progeny of Izabela and Count Kazimierz Rzewuski), and 
Franciszka Kochanowska previously considered an unknown protege of Czartoryska, who turned out to be Szymanowska's childhood friend, author of an hitherto-unknown French song in Szymanowska's Album (No. 970), the wife of a hero of Napoleonic wars and the November Uprising, Kazimierz Kamienski and the mother of political writer and philosopher Henryk Kamienski. 
My discoveries about the connections of these individuals and their links to Szymanowska happened in two archives – at the previously mentioned Czartoryski Library and at the Bibliotheque Polonaise in Paris, thanks to professional expert assistance of Ewa Rutkowska and Magdalena Glodek.  
The third lecture on Szymanowska herself was given by Prof. Irena PONIATOWSKA of the National Chopin Institute in Poland, the organizer of two Chopin Congresses, and author of more books and articles on Chopin and his musical environment that we could count (over 300!). Prof. dr. hab. Poniatowska has served as the President of the Programme Board of the F. Chopin Institute since 2001 and the President of the Honorary Committee of the project "Maria Szymanowska, a Woman of Europe" since its inception.  In this presentation, Prof. Poniatowska focused on placing Szymanowska's virtuosic Etudes and Preludes, published in 1819, in their European context ("Etudes  et  Préludes  de Maria Szymanowska : leur apport dans l'art pianistique européen des premières décennies du XIXe siècle").  She noticed the unique "marriage" of technical difficulties requiring exemplary virtuosic prowess with an expressive power of flowing melodies and a rich harmonic language.  There were many parallels between specific motives or technical issues presented by Szymanowska and those found in later works by well-known composers such as the classic Czerny etudes or other methods for piano.  The seasoned scholar urged the listeners to keep it in mind that Szymanowska's set of Etudes and Preludes, issued by Breitkopf und Hartel in Leipzig in 1819 was the FIRST such set in all of Europe, preceding the well-known piano methods that have overshadowed Szymanowska's oeuvre by today.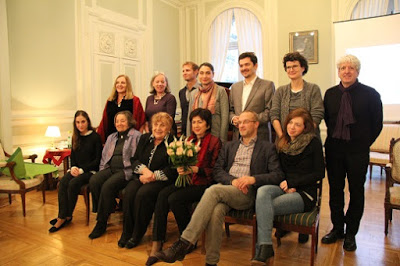 Other researchers from France, Germany, and Switzerland discussed recent scholarly discoveries and the current state of knowledge about Szymanowska's contemporaries, predecessors and followers: women of influence active in the 18th and 19th centuries.  the paper of Helen GEYER, one of the foremost German musicologists, specializing in the history of European Music from the 16th to the 20th century was dedicated to "The Four Women conservatories of Venice: Models of Life, Rivalry and Outstanding Examples of Quality." Presented in absentia by Dr. Maria Smolarzewicz, the paper stimulated a lively discussion especially after the list of composers associated with these Conservatories was circulated and the audience noted that the list consisted entirely of male composers. It was noted as yet another way of "writing women out of music history." 
A noted French art historian, Francoise PITT RIVERS decided to present and compare two female painters who frequently portrayed musicians, Madame Elisabeth Vigee Le Brun and Angelica Kauffmann. Both painters were subjects of Dr. Pitt-Rivers's publications, published in 1994 and 2009 respectively.  The presentation was particularly timely as it coincided with the first monographic exhibition dedicated to Elizabeth Vigee Le Brun held at that time in Paris. French musicologist who taught in Lausanne and Lyon, and penned over 50 articles and books, Dr. Jerome DORIVAL introduced another forgotten composer and her impact on romantic generation: "Influence d'Hélène de Montgeroult sur la génération romantique." The lecture was illustrated live by Marcia Hadjimarkos peforming fragments of musical works by de Mongeroult and her followers on the Graff pianoforte.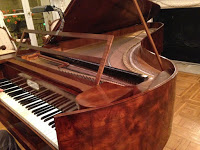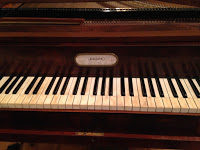 A historic Johann Alois Graff pianoforte, private collection of Bart van Oort.
On Friday, 27 November 2015, musicologist and founder/editor of the website www.musicologie.org, Jean-Marc WARSZAWSKI presented the career of Maria Szymanowska in a wider context, by discussing the prejudices and challenges that marked the lives of her contemporaries, especially in France ("Musiciennes au temps de Maria Szymanowska : un contrepoint  d'inégalités et de préjugés"). The presentation was followed by a spirited discussion that took the audience all the way to the prejudices and challenges for women composers in the present times.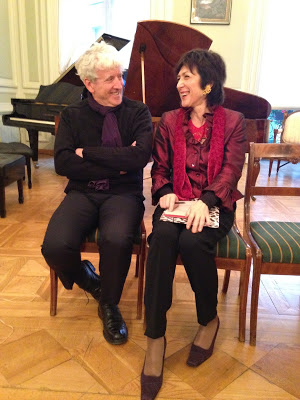 Jean-Marc Warszawski with Elizabeth Zapolska-Chapelle
The Symposium "Maria Szymanowska and Her Times" ended with an elegant musical salon, subtitled "An Invitation to the Dance" ("Invite a la Danse"). Here, the musicians and scholars had a chance to present items of their own choice, play music, read poems, or make speeches advocating for whatever they wanted to discuss.  The two pianists Bart van OORT and Edoardo TORBIANELLI played another work for three hands, a curious arrangement for contemporary audiences that may have had a social function in Szymanowska's times.  I read poems for Szymanowska written by Julian Ursyn Niemcewicz and Count Henryk Rzewuski in original Polish and my own English translation. Drawing on astounding improvisatory talents of Edoardo Torbianelli (who was asked to portray musically an array of fruits and vegetables), I also recited in Polish the title poem from the Chopin with Cherries anthology, A Study with Cherries (Studium w Czeresniach), as well as two poems I selected for this Salon: "The Lady with an Ermine" inspired by Leonardo's painting of the same title and its long Czartoryski-related history, and "An Invitation to the Dance" that concluded the salon in a light-hearted mood. As it can be seen on the YouTube recording of this performance, both poems greatly benefited from  improvisatory talents of Mr. Torbianelli, playing in renaissance style for the Lady and creating ad-hoc impressionistic textures to the changing moods of the "Invitation."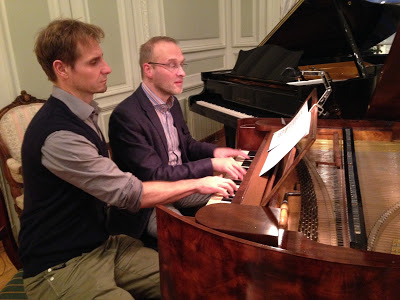 Edoardo Torbianelli and Bart van Oort perform at the closing salon.
The 3rd International Maria Szymanowska Symposium  has been organized jointly by the Maria Szymanowska Society and the Polish Academy of Sciences' Paris Center. The planned program is reproduced in the previous blog (in French). You can see a flash from the Symposium Women and their talents: myths and reality broadcast by the Polish Television for the world – TV POLONIA on November 27, 2015 in the news Polonia24 (after the 15th minute): http://polonia24.tvp.pl/22537582/27112015-2205

For more information contact the Maria Szymanowska Society: societe.mariasz@laposte.net.  To see more photos visit: Szymanowska in Paris 2015.
Pierwotnie tekst ukazał się na blogu Mai Trochimczyk.
Serdecznie dziękujemy Autorce za możliwość przedruku.