How to tell if a pianist is good enough to be worth the effort of driving on our congested freeways to attend his concert on a Friday night, if you have never heard his name before? Hard to tell… perhaps, you should believe what others say about him.  You certainly should watch for the name of Maciej Grzybowski, an extraordinary Polish pianist, who recently visited Los Angeles upon the invitation of the Helena Modjeska Art and Culture Club.
On May 11, 2011, he performed a solo piano recital at the First Presbyterian Church in Santa Monica.  From there, he went on to play for the Polish Arts and Culture Club of San Diego and then to appear in a recital in Montreal, Canada. (In the interest of full disclosure, I have to state that as the President of the Modjeska Club I personally invited him to L.A., while his tour was sponsored by the Adam Mickiewicz Institute of Poland and supported by the Polish Consulate in Los Angeles). The specially crafted Santa Monica program included music by Polish composers (Paweł Mykietyn, Witold Lutosławski, Paweł Szymański, and Fryderyk Chopin) juxtaposed with Western classics – Johannes Brahms, Claude Debussy, and Maurice Ravel. Some of the best music of the world, played by one of the best pianists you can ever hear…
Born in 1968 and educated in Warsaw, Maciej Grzybowski is the winner of the First Prize and the Special Prize at the 20th Century Music Competition for Young Performers in Warsaw (1992). He made numerous phonographic, radio and television recordings as a soloist and chamber musician and collaborated with Sinfonia Varsovia conducted by such conductors as Jan Krenz, Witold Lutosławski and Krzysztof Penderecki. From 1996 to 2000 Grzybowski was a co-director of the "NONSTROM presents" concert cycle in Warsaw. He took part in numerous music festivals in Poland, such as the Warsaw Autumn, Musica Polonica Nova, Witold Lutosławski Forum, Warsaw Musical Encounters, and the Polish Radio Music Festival. He also performed at the Biennial of Contemporary Music in Zagreb, Hofkonzerte im Podewil, Berlin and festivals in Lvov, Kiev, and Odessa (Ukraine). In March 2005, Grzybowski's recital at the Mozart Hall in Bologna was recognized as the greatest music event of the 2000s. After Grzybowski's U.S. debut in New York, in August 2006 EMI Classics released his second solo CD with works by Paweł Szymański (b. 1954). He also appeared in three concerts at the critically acclaimed Festival of Paweł Szymański's Music in Warsaw. In February 2008, Grzybowski premiered a Piano Concerto by an unjustly forgotten composer, Andrzej Czajkowski (Andre Tchaikovsky).
After the 2004 release of Grzybowski's first solo CD, Dialog, juxtaposing works by Johann Sebastian Bach, Alban Berg, Pawel Mykietyn, Arnold Schönberg and Pawel Szymanski, (Universal Music Polska), critics raved:
– His interpretations of Bach, Berg, Schönberg, Szymański and Mykietyn show the touch of genius! There are certainly none today to equal his readings of Bach! […] How refreshing and exciting it is to be in the presence of such great art of interpretation, akin to a genius! (Bohdan Pociej).
– The performance of Berg's youthful Sonata and Schönberg's Sechs kleine Klavierstücke could easily stand alongside the recordings of Gould or Pollini (Marcin Gmys).
These exorbitant expressions of praise were seconded by attendees of the Santa Monica recital including composer Walter Arlen, the founder of the music department at Loyola Marymount University and for 30 years the most influential music critic of the Los Angeles Times. After the concert, he stated, this was the best pianist I have ever heard in my life. His praise was seconded by another listener, Howard Myers: Maciej is a phenomenon, a marvel, a miracle, a special kind of genius. The belief in Grzybowski's exceptional talent is shared by the Director of the Adam Mickiewicz Institute, Paweł Potoroczyn:
He is more than just a talented pianist – he is both a virtuoso of the highest order and a great musical personality. The resultant unique combination is that of an uncommon musical genius that fully justifies comparing him with such masters as Glenn Gould or Maurizio Pollini.
While admitting to a personal bias towards someone who has dedicated years of his life to the music of Paweł Szymański, one of the greatest Polish composers who ever lived (as it will become apparent in 50 years, when the dust settles and musical diamonds will be found in the sea of ashes), I had no doubt that by bringing Maciej Grzybowski to California, I offered our audiences a special treat.  His recital exceeded even my already sky-high expectations. First the program: arranged in two distinct parts, pairing composers of different generations in a surprising dialogue of musical ideas.
The youngest of the composers featured by Grzybowski was Paweł Mykietyn (b. 1971), his colleague and co-founder of the Nonstrom Ensemble where he has played the clarinet. In an entry on the Polish Music Information Center's website affiliated with the Polish Composers' Union, Mykietyn's style is described in the following way: The composer ostentatiously applies the major-minor harmonies, introducing tonal fragments interspersed with harmonically free sections. He also makes use of traditional melodic structures, transforming them in his own individual manner. Mykietyn could be described as a model postmodernist, deriving his inspiration as well as material from all the available sources without any inferiority complex. These words could well be applied to the virtuosic and wistful Four Preludes (1992) that opened the program with their contrasting moods, textures and tempi.
Grzybowski followed the postmodernist Mykietyn with Twelve Folk Melodies by the dean of Polish composers of the 20th century, Witold Lutosławski (1913-1994). Commissioned by PWM in 1945, and elevating folklore to the realm of high art (in a preview of the official ideology of "socialist realism" of 1948) these little gems show how unimportant is the ideology or context for a great compositional talent. The popular melodies of Hej, od Krakowa jadę [Hey, I come from Cracow], Na jabłoni jabłko wisi [An apple hangs on the apple tree], or Gaik [The grove] were set to music in a sophisticated harmonic style, reminiscent of Bèla Bartók. Under Grzybowski's fingers, these charming miniatures sparkled with a caleidoscope of colors and rhythms. The pianist brought out the complexity of inner voices in seemingly simple pieces and endowed folk melodies with an aura of nostalgia and drama.
In a stroke of genius, Grzybowski followed the folk arrangements with an entirely hypnotic and modernist reading of Drei Intermezzi, Op. 117 by Johannes Brahms (1833-1897). A standard in every music theory textbook on Schenkerian analysis, Drei Intermezzi could be heard as small interludes only in comparison with Brahms's majestic symphonies.  Composed in 1892, the intermezzi (No. 1 in E-flat major, No. 2 in B-flat minor and No. 3 in C-sharp minor) transverse cosmic landscapes of feeling evoked in Rainer Maria Rilke's timeless poem, An Die Musik.
Yet it was the piece that followed, Two Etudes by Paweł Szymański (1954), written in 1986 and available on two Grzybowski CDs, that elicited the greatest enthusiasm of the audience.  It is a work of genius, unparalleled in music in its hypnotic effect on the listeners. The Etudes, played without a break, contrast the slow emergence of music in the first etude with the titanic flows of sound in the second.  The piece arises from silence in what appears to be a series of random, repeated notes and chords, but there is nothing random in Szymański's music, everything is carefully constructed.  Sometimes called a "neo-Baroque" composer (due to his frequent inspiration with the music of that period, and talent for creating complex polyphony), Szymański refers to his style as "sur-conventionalism" and thus describes his main approach: The modern artist, and this includes composers, finds himself tossed within two extremes. If he chooses to renounce the tradition altogether, there is the danger of falling into the trap of blah-blah; if he follows the tradition too closely, he may prove trivial. This is the paradox of practicing art in modern times. What is the way out? However, there are many methods to stay out of eclecticism despite playing games with tradition. An important method for me is to violate the rules of the traditional language and to create a new context using the elements of that language. 
Thus, Szymanski draws from traditional tonal and harmonic language by playing with the conventions of musical styles and with the listeners' expectations. This game of cat-and-mouse was apparent in the stretching and constricting of time in the two Etudes. The irregularity of recurring chords and notes piqued the listeners' interest and intensified their expectations. Thus, the music grew and expanded in scope in the first Etude, to reach monumental proportions and then dissolve in massive complexities of the second.
The second half of the recital started with a series of unusual readings of Fryderyk Chopin's four mazurkas (in A Minor, Op. 7, No. 2; E Minor, Op. 41, No. 1; F Major, Op. Posth. 68, No. 3; G-sharp Minor, Op. 33, No. 1). The originality of the pianist's interpretations rendered these well-known gems of the repertoire almost unrecognizable. 
More angular and modernist than usual were also three Preludes from the second volume of impressionistic masterpieces by Claude Debussy (1862-1918): II  …  Feuilles mortes, VI  … "General Lavine" eccentric; VII … La terrasse des audiences du clair de lune.  These terraces were lighted less by effervescent moonlight than by the brilliant focused light of Grzybowski's intellect.  Again, they were so different from what I was used to hearing that I would need to hear these preludes again, to render an opinion. Yet, the rest of the audience was hypnotized into a complete silence and immobility: no slow, tortuous opening of candy wrappers at this recital! 
The finale was indeed "grand" –  a monumental rendering of Valses nobles et sentimentales by Maurice Ravel (1875-1937). In 1906, Ravel started his "waltz" project, culminating with the 1919 publication of the orchestral suite, La Valse. Inspired by the noble and sentimental waltzes by the Viennese Franz Schubert, Ravel published a suite of eight pieces for piano in 1911 and followed them with orchestral versions a year later. The waltzes are not separated into distinct "noble" and "sentimental" sections; it is up to the listener to decide what is what. The pieces, in contrasting tempi, span the whole expressive trajectory for which the words are too limited to give the music full justice. An unusual selection to close a solo recital, the suite ended in a slow tranquil dissolution into silence.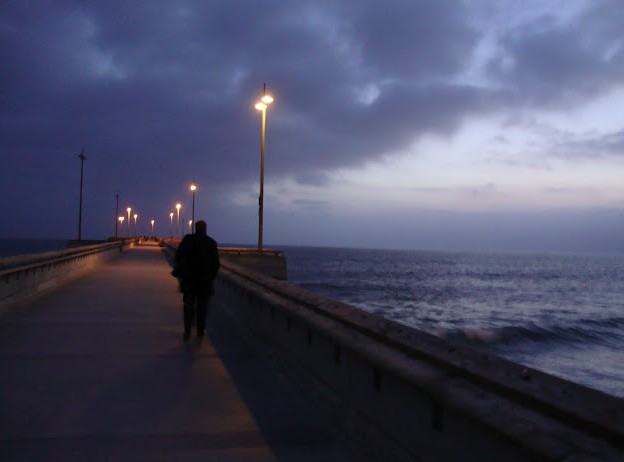 Maciej Grzybowski in California, photo by Maja Trochimczyk.
After a well-deserved standing ovation, the pianist relented and added a melancholy and thoroughly modern version of a Scarlatti's sonata as an encore to the evening's inspired and inspiring program.  One thing is certain: the name recognition problem mentioned at the beginning should be resolved, once for all, in the case of Maciej Grzybowski: just go to every concert of his, and if you cannot go, buy his CDs.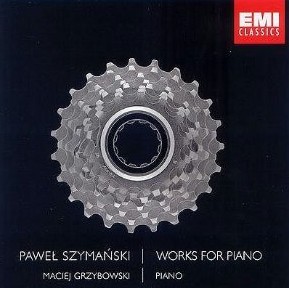 Links for the article:
www.polishculture-nyc.org/?itemcategory=30817&personDetailId=331
Grzybowski EMI CD:
www.amazon.com/Works-Piano-Maciej-Grzybowski/dp/B000S0FKZW/ref=sr_1_2?s=music&∓ie=UTF8&qid=1338992245&sr=1-2
Walter Arlen
www.orelfoundation.org/index.php/journal/journalArticle/walter_arlen_things_turn_out_differently/
———————–
Źródło: http://www.usc.edu/dept/polish_music/news/jun12.html
∓