Linus Roth – one of the best violinist among his generation. His debut album recorded for EMI won the prestigious Echo Klassik Prize in 2006. Linus Roth's eight CDs have been released so far; they include unfairly forgotten works, especially by the Polish composer Mieczysław Weinberg's music. His Concertino op. 42 is part of the album Wartime Consolations, which has been reviewed in Meakultura. For the first time after winning the 4th prize in the 6th International Competition for Young Violinists. Karol Lipiński and Henryk Wieniawski, Linus Roth has come to Warsaw.
Katarzyna Trzeciak: Do you come from the musical family? Who did first discover your talent?
Linus Roth: Both my parents are musicians – my father was an organist and my mother is a cellist. One day, she brought home a small violin, which immediately fascinated me. From the very beginning, the violin seemed easy for me. I was learning quickly and it was great fun for me. When I was 11, I decided to become a musician.
K.T.: Did you parents force you to practise a lot? Did you feel under  pressure?
L.R.: My parents have never made me play more than necessary. They did not put any pressure on me; rather controlled my practising in order to avoid mistakes. It is very important to play wisely, because bad practising becomes a habit. Consequently, instead of reducing the mistakes, they can become uncontrolled and are extremely hard to eradicate.
I have been always lucky to have great teachers, who were not only a highly-skilled musicians, but also had a great pedagogical approach. My first violin teacher gave me stickers or balloons after I had performed well. These small gifts were a great inducement to work. When I was 12, I attended the pre-college division at the Music Academy Freiburg.
K.T.: What nationality is Professor Nicolas Chumachenco? How would you describe his lessons?
L.R.: Professor Chumachenco was born in Poland. He comes from a Ukrainian family, but started his musical education in Argentina (laugh). Then he was studying in the United States with Jascha Heifetz and Efrem Zimbalist. Professor Chumachenco is a remarkable violinist – he has won awards at the International Tchaikovsky Competition and at the Queen Elisabeth Music Competition.
He was a very strict, but fair teacher. He could praise, but reproved as well, when necessary. Professor Chumachenco has always given his opinion straightforwardly. He was strict due to the fact that I could meet his expectations.
K.T.: After having finished lessons with Professor Chumachenco, you started learning with a world-famous professor, Zakhar Bron. Why was this period meaningful for you? Could you observe a rat race between the Professor's students?
L.R.: Zakhar Bron educated many outstanding musicians, such as Maxim Vengerow and Vadim Repin. Being 16, I started learning in this Professor's class. Zakhar Bron was a very strict teacher – I remember practising a lot during this time. His students did not jostle for the priority; they rather motivated each other to work faster and harder. When I had heard somebody playing Prokofiew's concerto faultlessly by heart, I have thought – "I can do this, too!"
K.T.: How do you recall your last teacher, professor Ana Chumachenco, professor Nicholas Chumacenco's sister?
L.R.: For me, Ana Chumachenco is the most important professor. She has shaped my personality and has always been underlying expressing yourself in music – and not to imitate anyone. There are many skilled violinists who are always playing exactly like their teacher wanted, forgetting about their own personality.
Professor Ana Chumachenco has an unusual skill, "the sixth sense". When she looks at her students, she immediately knows what they need: a hug or a better motivation to work. She could infallibly recognise her students' moods, which obviously influences the attitude towards learning and playing itself. Professor Chumachenco has an individual approach to each student:
K.T.: Have you ever happened to have any crisis throughout your career?
L.R.: Crisis is a very strong word. I have never seriously thought about stopping playing. Nevertheless, we all have doubts, such as how to build up an eight-bars' phrase. To make up my mind about things like this takes a lot of time, but I believe it is the most natural way to find an individual interpretation and to develop  my own style.
K.T.: Could you tell the readers something about your competitions?
L.R.: I was lucky to win a few of them, in others I went home after the first round. The defeats were very frustrating for me, especially because I felt unfairly judged. On the other hand, the defeats made me realise that I want to be a violinist and what really matters for me is the music. Then I stopped taking part in competitions.
K.T.: When was it?
L.R.: In 2003 I took part in the last competition, which was organised by the German Music Council. Despite the nationality, everybody who studies in Germany can join this contest. Fortunately I won, which gave me the opportunity to play about 50 concerts in the whole country. Then I realised there were enough competitions in my life; in fact, they have little in common with music.
K.T.: You play the Stradivari "Dancla" 1703. Could you tell us how you got the opportunity to play on this unique instrument?
L.R.: I am extremely lucky. The L-Bank, Staatsbank of Baden-Württemberg, Germany had lent the first Stradivarius to Anne-Sophie Mutter, who after a few years bought it from the bank. Investing in culture is a national's bank responsibility; moreover, its management has realised that master instruments are being more and more valuable. The Staatsbank of Baden-Württemberg has begun buying master instruments many years ago. Now the collection consists of over twenty items and there are a few Stradivaris among them. The Stradivari "Dancla" 1703 which I have been playing for seventeen years was bought as the last one. My luck was even greater, because I had the opportunity to choose the instrument myself and ask the bank for buying it. For over a year I was testing different instruments, Stradivaris as well. You can only imagine that I gave back violins worth millions saying: "This is nice, but it lacks of something". At last, I have found the right one. Only after a few tones I knew that this was the violin for me.
K.T.: Since 2012 you have been Professor at the University of Augsburg. Do you encourage your students to participate in competitions?
L.R.: No. Obviously, if my students want to take part in contests, I support them, but warn them  as well. Firstly, it hardly happens that a jury of several people has a common opinion; everybody has a different taste. All participants of competitions have to be aware that they will be judged subjectively. Sometimes jury's opinions can be unfair for a participant; maybe they are, but these are the rules of the competition –  each juror has her or his  own taste. A jury hardly ever announces a consistent verdict. Competitions can be a nice opportunity to prepare repertoire and show your skills, but the result should not be the most important goal.
K.T.: What about chamber music? Do you recommend your students to play in ensembles?
L.R.: Absolutely – I think learning and performing together is essential. Chamber works not only provide a much deeper view of the composer's oeuvre to you, but also significantly influence your solo performing. Actually, playing together has further consequences. Chamber music teaches empathy, understanding of others and openness for their opinions – all these factors improve our interpersonal skills. If we play only alone and for ourselves, we will also create our own, enclosed world, which is dangerous.
K.T.: Did you work as a tutor during your studies? What type of Professor are you?
L.R.: Before starting to work at the University I had had only two private students. I did not want to teach earlier as I was afraid to be too strict. Nowadays, my students say that I am a demanding professor, so I guess it is for the better that I had not taught before.
K.T.: How many people study in your class? Are there any foreigners among them?
L.R.: I have ten students, most of them are outlanders. There are four Germans, two of them are Sinti people, who were born in Germany. My student from South Korea has graduated recently – in 2012 I hold masterclasses at four universities in Seoul and I invited the best students to Augsburg. Three other students come from different countries – France, Spain and Mexico. One other student has Russian-German roots.
K.T.: There are no Poles among them yet?
L.R.: That is true, but Polish students would be most welcome. Your countries' musicians are very talented.
K.T.: Do you think so?
L.R.: Absolutely. I have made friends with many Polish musicians and I have always been highly impressed by  their understanding of composer's emotions in works. The most important issue in music is to realize and convey emotions.
K.T.: Probably you met many Polish musicians during the Ensemble International Chamber Arts Festival in Książ? What are your impressions from this Festival?
L.R.: I met some Polish musicians during the Festival, indeed. However, I had made friends with your artists much earlier, during my studies. The Festival was very nice. Before coming to Książ I did not know the story of the castle, but I felt strange when being inside it. Then I started reading about this building and I had the impression – I might be exaggerating – that the dark side of the story still exists in the castle's walls. Talking about the Festival, it was prepared with a lot of personal involvement. Both the students and the professors presented a remarkably high level; in fact, the best Polish musicians come to Książ. It was a great pleasure to play with them and be at the Festival.
K.T.: Your professors have eastern roots, many of your acquaintances come from Poland, you were learning in Germany and Switzerland – a melting pot, indeed. Moreover, your pianist, José Gallardo is Argentinian. When and in what circumstances did you meet? Do different nationalities and temperament  interfere your playing?
L.R.: I heard about José Gallardo during my studies with Professor Zakhar Bron in Lübeck. I was searching for a deft pianist and somebody had met José Gallardo at the Yehudi Menuhin Academy and recommended him. José Gallardo is Argentinian, but he had studied in Germany with our professors. When I was studying in Lübeck, José was taught at the University of Mainz. I called the local secretary to ask about him; I heard that José had just left her office. I asked if he could call me back.
Without a doubt José really is spontaneous. He called back and told me that we can meet in Lübeck tomorrow. It appeared that rehearsals were not really needed – after playing together for the first time we simply knew that it works. Since then we have been performing together. Nevertheless… if José was sitting here, he would say:"if I had known that from Mainz to Lübeck it is more than 500 km, I would had never come!" (laugh).
K.T.: You have played hundreds of concerts. Which are the most memorable for you? Were there any hilarious situations during your performances?
L.R.: There are plenty of interesting stories connected with the concerts, I do not have a clue, how many of them can be told in this interview (laugh). Once upon a time me and José were playing in a smaller German town. We had not checked the train schedule and just before the concert we realised that we have to catch the train at about 10.05 p.m. During the performance we skipped the repetitions, finished at 10 p.m. and I have to admit that we left the concert hall before the audience! People were looking at us saying – Aren't these the artists who have just been playing?, and we, wearing our suits, were ploughing through the audience. This was an amusing and incredible experience.
Taking into consideration the serious side of the concerts reminds me working on Philipp Glass' Violin concerto with Bruckner Orchestra Linz. Denis Russell Davies, one of the composer's best friends was conducting; the Concerto is partly dedicated to him. We started playing in an incredibly slow tempo.  I asked the conductor with surprise: Maestro, will this be the final tempo? In the score there is a totally different one. Denis Russel Davies told me that he is the composer's friend and he does know what is the suitable tempo. At the beginning, playing in much slower puls was very frustrating for me; this piece seemed a different one. However, later I thought I simply should try. I had been worried about the reaction. Conversely, still on stage after the performance Dennis told me that it was one of the best interpretations of Philipp Glass' Concerto that he had ever heard. I felt proud because he has conducted it very often. This situation taught me that forcing own ideas never works – it is always worth to stay open to other interpretations of music.
K.T.: When and in what circumstances did you discover Mieczysław Weinberg's compositions?
L.R.: It happened during a Chamber Music Festival in Germany in 2010. We were rehearsing Schubert's trio; the next piece was to be Mieczysław Weinberg's. I had heard little about him; clearly, I remember asking if we have to play this composition at all? My college said that it is a well-composed work which I will enjoy. From the first bars Weinberg's music strongly appealed to me. It was an incredible experience. During playing this piece and listening to it I realised that there are many tough memories inside. I decided that it is worth getting to know Mieczysław Weinberg's work. Soon I started doing a research. Firstly I found out that there are five Mieczysław Weinberg's violin sonatas. Later, I got the information from the edition that the sixth had just been discovered. The score was sent via e-mail to us. Together with José Gallardo we have then recorded all the six sonatas:
The premiere of the Mieczysław Weinberg Violin Concerto was one of the most significant moments for me. I have to admit that I was begging many conductors to play it. Finally, Mei-Ann Chen with Badische Staatskapelle in Karlsruhe agreed (Weinberg's opera "The Passenger" had been staged there). I was very nervous before the concert thinking what will be the audience's reaction? If the composition was negatively perceived it might mean that Mieczysław Weinberg was not a talented artist. Fortunately, it occured the other way round. The audience was delighted with Mieczysław Weinberg's Concerto and I was exhilarated.
K.T.: As far as I know, Mieczysław Weinberg's compositions are getting more and more popular in Poland, too. Have you ever thought to perform in our country?
L.R.: I would love to play Mieczysław Weinberg's music in his homeland. Presenting Weinberg's Concerto in Szczecin with Thomas Sanderling conducting look like is going to happen, so is a performance of Alban Berg's Violin Concerto in Wrocław February next year.
My dream is to play Mieczysław Weinberg's works in Warsaw – his hometown. I will be discussing it with the director of The Museum of the History of Polish Jews. It might be possible to organise some concerts there.
K.T.: In 2015 you founded the International Mieczysław Weinberg Society. Who helped you with this project?
L.R.: The idea has appeared during my conversation with Kevin Kleinmann, Professor at the Music Departement at Sorbonne University in Paris. I told him that despite many of my Weinberg's recordings my colleagues still have not heard about him yet. I mentioned an idea of creating a Mieczysław Weinberg's homepage. Kevin Kleinmann adviced me that if there are Brahms', Mozart's and Shostakovich's Societies I should found a Mieczysław Weinberg's one. At the same time, there was the Premiere of the last Opera of Mieczysław Weinberg – "The Idiot" based on the Fiodor Dostoevsky novel. It was conducted in Mannheim by Thomas Sanderling, Shostakovich's and Weinberg's friend, son of the famous conductor Kurt Sanderling. After the Premiere Thomas and I were talking for a long time. After having heard about the idea, Thomas offered his help. Moreover, he proposed to ask Dimitri Shostakovich's widow, Irina, to become the Honorary President of the Society. Irina and Dimitri Shostakovich were very close friends to Mieczysław Weinberg. They accompanied him during his last years. Now the International Mieczysław Weinberg Society and the Shostakovich Society closely collaborate, similar to a continuation of the friendship between the composers. Irina Shostakovich's memories about Mieczysław Weinberg can be found at the International Mieczysław Weinberg Society website:
K.T.: You also perform many of Dimitri Shostakovich's works. Does playing his music influence understanding Mieczysław Weinberg's works?
L.R.: I do enjoy playing Dimitri Shostakovich's composiotions a lot; I had performed them a long time before Mieczysław Weinberg's works. In my opinion, working on Weinberg's music helps to understand Shostakovich's, not the opposite way. Both composers were friends, indeed. People who do not know Weinberg's music often say that it sounds like worse Shostakovich which is obviously not true. It is important to remember that not only Shostakovich inspired Weinberg; they influenced each other and their works represent the same artistic level. Shostakovich appreciated Weinberg's music and asked for his opinions on his compositions. The composer played his works in front of Weinberg before they were published. There is a magnificent recording when both artists play the piano version of Shostakovich's 10th Symphony. The last part is performed in an unbelievable tempo. I strongly recommend listening to this recording!
K.T.: You have much in common with  Russian music and many of your friends come from the East. Do you know Russian?
L.R.: (speaking Russian): I cannot speak Russian. I can understand some phrases to some extent.
K.T.: Apart from German and English, what languages can you speak?
L.R.: I know Italian, because I was living there. During holiday I participated in many master classes with Maestro Salvatore Accardo.
K.T.: You have recorded eight CDs so far. In May the ninth with Mieczysław Weinberg's Solo Sonatas will be released and in autumn – your third orchestral album including Tchaikovsky's Concerto and Shostakovich's 2nd Concerto with London Symphony Orchestra conducted by Thomas Sanderling is going to be published. Which of the current CDs is the most meaningful for you?
L.R..: Recording all the Mieczysław Weinberg's violin works is significant not only for me, but probably for the whole music industry – there has not been such a project before. A nice recording of Mendelssohn's famous Violin Concerto would have been pleasant, but nothing more: it wouldn't have made a real difference.
The first CD I have recorded for EMI is also meaningful for me. I had sent a demo recording, but I did not get any response, so I forgot about the situation soon afterwards. Six months later I received an email from EMI. Firstly, I thought it is an advertisement for some new CD and I wanted to delete the message. However, when I started reading it, I could not believe my eyes. EMI's executive director was asking when he could listen to me live. I sent him my concert calendar. After one of these performances, he came to me, congratulated and disappeared. I perceived it as a pleasant but therefore finished adventure. After coming back to my hotel I read the inquiry when I could make space in my calendar for my Debut CD recording. I was in high spirits.
K.T.: Later, this first CD recorded for EMI was awarded the Echo Klassik prize. Did you expect this prize?
L.R.: Not at all. It was a great surprise for me.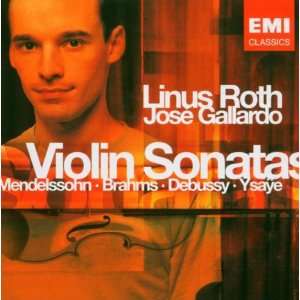 Linus Roth and José Gallardo – debut album recorded for EMI awarded the Echo Klassik Prize in 2006
K.T.: Do composers dedicate music to you?
L.R.: Yes. Moreover, I would like to ask them about a few more works. Performing and recording Mieczysław Weinberg's music made me realise how important it is to present the audience currently written music. There were musicians who stopped playing this composer's works. David Oistrakh and Mstislav Rostropovich were the last who popularized Mieczysław Weinberg's concertos and sonatas. Then there was silence. It is our artists' huge responsibility to play modern music. In order to do this, we have to persuade concert organizers, orchestra managers and conductors, repeating – I want to play this music because it is valuable. If we do not convey modern music to audience, it will cease to  exist. We would be going around major, but well-known composers, such as Brahms, Mozart and Beethoven. As if new music had not being composed.
K.T.: Some violinists conduct, too. Do you want to be a leader? Maybe you are a conductor but I do not know about it?
L.R.: (laughs)I have not dared to conduct yet. We will see what the future brings. For now I say: no. I have graduated from violin, not conducting.
K.T.: Have you ever composed something?
L.R.: I have written cadenzas for Mozart's and Beethoven's concertos, but I am not really thinking about composing.
K.T.: You teach, perform, record. Do you happen to have any free time? What do you do then?
L.R.: In my free time I grant interviews (laughs). In fact, all the time is free because organizing it depends on our decision. I enjoy doing sports – I run and go to the gym. I am interested in fashion. I travel – especially I enjoy resting at the seaside in warm countries. Reading books and watching movies are my hobbies, too.
K.T.: What literary genre do you like? Do you have a favourite author?
L.R.: I like biographical books the most, especially – autobiographical. Other people's life interests me. Apart from that, I enjoy reading Hermann Hesse and Thomas Mann. I would like to read more, but unfortunately, I do not have enough time for it. Sometimes I fall asleep over a book because I'm so tired. It is worth to mention that there are two Mieczysław Weinberg's biographies. One was written by Danuta Gwizdalanka, whose husband is Krzysztof Meyer, composer's and Dimitri Shostakovich's friend. David Fanning is the author of the other biography, which was translated into German. I recommend it. Unfortunately, I cannot read the Polish biography.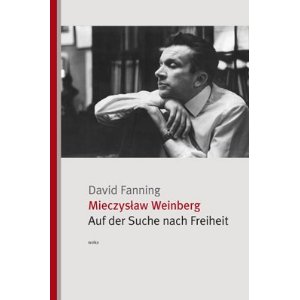 David Fanning, Mieczysław Weinberg. Auf der Suche nach Freiheit, trans. Jens Hagestedt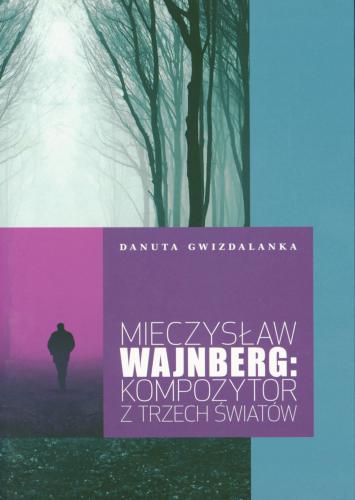 Danuta Gwizdalanka, Mieczysław Wajnberg: Kompozytor z trzech światów
K.T.: What features of character should a professional musician have?
L.R.: Integrity, endurance and willingness to devote yourself to music.
K.T.: If you had not become a musician, could you imagine having a different profession? Which one?
L.R.: I have often been asked about it. Nowadays, I cannot imagine myself having another career. However, I would like to get for instance a pilot's licence. I am fond of flying and the planes have always been fascinating me. It might sound unbelievable, but two very skillful students of Ana Chumachenko have become professional pilots. One of them has been working for German Wings, the other for Swiss Airlines. I am still waiting to be on board of that very flight, hearing one of them welcoming all the passengers, – while I will be one of them sitting on that plane.
K.T.: If you could meet only one composer and only one preformer, who would you choose and why?
L.R.: I would like to meet Ludwig van Beethoven. His personality remains a mystery for me. What strikes most while listening to Beethoven's music are the contrasts. Probably the composer changed his moods immediately, too. Some of the violinists would probably point out Nicolo Paganini, but I do not agree with them. I would rather prefer to know the conductor Carlos Kleiber.
K.T.: In what kind of ways can music generally help people in their lives?
L.R.: Music can give us a hand to overcome our everyday problems. In my opininon music can change more than we can imagine; I would even say that music is able to change the world. Music has an enormous power and can defend itself; we, the artists, only serve it. Nowadays people, especially young, find it very difficult to concentrate on the music itself. Switch off the mobile phone, keep silent and just listen. If we, the artists, help people to focus on the music, it will win.
K.T.: I wish you and all the performers to achieve this goal. Thank you very much for the interview.
L.R.: Thank you very much.      
More information about the artist and his redordings can be found here:
International Mieczysław Weinberg Society: