Josh Harris – one-man band: a remixer, a music producer, a sound engineer, a composer as well as a songwriter and an educator in music business. As a musical director, he has worked with Seal. On the well known website Lynda.com, Josh Harris has presented top-rated courses for remixing techniques (over 100 000 views). Now, the remixer who engineered a Grammy-Nominated Remix appears in MEAKULTURA.
Katarzyna Trzeciak: In Poland, there are many free music schools. Education includes e.g. learning theoretical subjects and an obligatory piano. Music seems to be important in an American education – every school has it's own band. Are there any free musical schools? How is music thought in America?
Josh Harris: You are correct that most schools have their own band, and some even have orchestras. However, the music programs in America do not receive the same funding or attention as other programs, like athletics. The final result is that we have some very gifted children who are not able to have their talents fostered at a young age, like you are able to in Poland, and other parts or in other parts of Europe In order to receive an elite level of musical training as a young child or a teenager you have to seek a private instructor, and you have to do it outside of school.
K.T.: On the website Lynda.com, it appears that you became interested in electronic music and synthesizers as a teenager. Were remixes popular in America? Did you follow any particular remixers?
J.H.: I took a break from classical piano for a few years when I was 11 years old, and really got into synthesizers. Keep in mind that this was the 1980's and synthesizers were really driving popular music.  Early remixes were essentially extended versions of the original, using mostly elements from the original version mixed with different drums. These versions were created for DJ's to play in nightclubs, and to sell vinyl. These mixes were often referred to as 12" mixes. 
My interest in remixing began in the late 1990's, when I started hearing completely new productions being done using only the vocals from the original version. Guys like Todd Terry, Hex Hector, Peter Rauhoffer and Hani really caught my ear with their sounds and arrangements. Remixing hit the mainstream in America in the late 1990's with the CD Maxi-Single. Every once in a while, a remix would become more popular than the original version. A good example of that is Todd Terry's remix of "Missing" by Everything But The Girl.
K.T.: My acquaintance Natalia told me that during high school she took part in medical workshops. Teenagers could sightsee a hospital and learn how different machines work Is there anything similar in the sound engineering area? Did you take part in such workshops?
J.H.: Those types of outlets were not around back then. Everything that I have learned on the production and engineering side, I taught myself.  Today, there are numerous outlets for kids to get a close up of how audio engineering and music production work.  The one thing that I did when I was 15 years old, was attend a five week summer program at Berklee College of Music in Boston, MA. The program focused on theory and ensemble performance. But, as a kid, I was always hanging out in pro audio stores and trying to learn what I could from the salesmen!
K.T.: America has a very well-developed scholarship system. Did you take part in it? Did it help you in buying f.ex. electronical equipment?
J.H.: We are fortunate to have the scholarship programs that we have, however, I never took part in any of them.  I got my first summer job at 14 years old and saved my money to buy my first keyboard, an Oberheim Matrix-6, which I still have and use today.  I've always worked, earned and then put the money back into my studio and business.
K.T.: What are the advantages and disadvantages of being a sound engineer in America? Are there any student career offices  which help in getting a job?
J.H.: Most sound engineers in America are entirely freelance. I believe that the percentage is much less in Europe. I would say that this is a disadvantage, because you are constantly hustling for work opportunities. When one job ends you have to immediately go find another one.  An advantage of being a sound engineer is that you get to participate in the creation of a wonderful art form – music. When everything is going well in the studio or on stage, it's an amazing feeling. As for student career offices, AES (Audio Engineering Society) is a great organization, which many students can join while in college. They're not going to find you a job per se, but they offer some wonderful networking opportunities, and will definitely open your eyes to the jobs that are out there.
K.T.: Do American students of sound engineering have practice? Where?
J.H.: Students who are involved in audio engineering programs have access to the school's studio equipment, but on a limited basis.  Those students who are able to buy some amount of gear and use it at home usually graduate with a more refined skill set.  Like any trade, you have to log hundreds to thousands of hours to become really good. Students who can practice their craft at home and at school have an advantage.
K.T.: In 1999 you set up Seiren Productions, a music company. Who helped you to create it? What were the most severe obstacles? What are the main goals of your company?
J.H.: I set up Seiren Productions with a $25,000 (US) loan that my mom co-signed for me.  It was a 5-year loan done through a bank in Nashville, where I was living at the time. I used that money to purchase some gear, but really it was used to afford me the time to spend 40 hours/week on my craft. I had enough part-time production work coming in, so I did have some income, although it wasn't much. I believed that if I devoted entirely to music, then I could turn it into a full time job. When you put your own money at risk, you really find out how hard you're willing to hustle. The main goal of Seiren Productions is to serve as my personal production company, handling major and indie label projects, as well as artist-financed projects.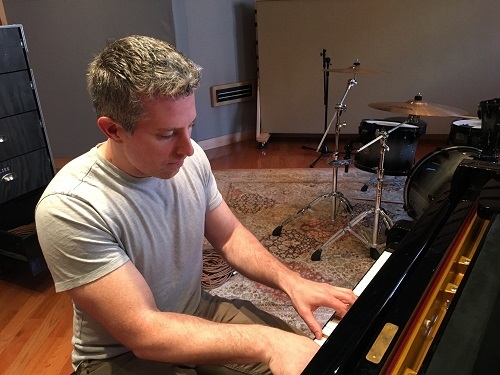 Josh Harris
K.T.: Did you have any amusing situations during your work? Could you tell us something about it?
J.H.: Back in the early 2000's, when I was living in New York City, I had the opportunity to work the Cy Curnin, the front-man for The Fixx. They were one of my favourite bands growing up, so it was a privilege to get a chance to work with Cy. He was working on a solo album at the time and a friend of mine was producing it.  They needed an engineer to record vocals and mix three songs. Cy is amazing both live and in the studio, and I would ask him to run through the song, just so I could check levels. He didn't realize that I was recording the run through, and those "warm ups" ended up being that takes that were used on a couple of different songs. When performers are relaxed they tend to do their best work.
In 2007, I did a remix for "The Right Life" by Seal.  He loved the remix and called me two days after Christmas.  For the first ten minutes of the conversation, I didn't know who I was talking to, because it was so loud on his end. I was trying to figure out what project I had recently worked on, where the artist had a British accent! Eventually, he said something that tipped me off. The whole thing was pretty funny.
K.T.: You were twice nominee for "Best Remixer" award of International Dance Music Association. What is your source of inspiration for remix?
J.H.: I have to hear it in my head. I work like a composer in the sense that I don't sit down to create music until I hear some percentage of the piece in my head.  When it comes to remixing, I like my remixes to work so naturally with the vocals, that the listener might think the artist or band recut their vocals to my mix. I approach remixing more like a traditional record producer than a DJ, which gives my remixes a different flavour and sound.
K.T.: What was Sergio Mendes' reaction after he had listened to you Grammy-Nominated Remix?
J.H.: I worked on that remix with my friend, Mike Rizzo, and he was the one who was in touch with Sergio's camp. I know they liked it because it was accepted. With an artist like that, you have to respect the original version to some extent, which we did on that mix.
K.T.: Do artists sometimes make suggestions for their remixes? Do you consult your work with them?
J.H.: Sometimes, and it can be annoying, but we are in a service business. When you're hired for "your sound", and then they want to backseat drive to process a bit, the end result isn't usually as good as if they had just let you do what you do. It doesn't happen that often and I usually don't consult with them. It tends to work better for remixes if I just do my thing and let them comment on the end product.
K.T.: What do you think of remixes of classical music? Do you think that all genres and composition can be changed?
J.H.: I like the idea of remixing classical music, in the theory, but only if a qualified remixer is doing it. Too many DJ's and producers don't have any theory background, and you need to have that, if you want to remix classical.  I don't feel the same way about remixing as an art form as I did 10 to 15 years ago. With the proliferation of inexpensive equipment and YouTube instructional videos, everyone thinks they are the next hottest producer.  I am swinging back to the side of leaving other people's art alone. There is too much messing around with other people's art these days, and the end product usually isn't very good. I don't mean to sound pessimistic about it, but it's the landscape today.
K.T.: What did you learn from working with Seal?
J.H.: I learned that no matter how famous you are, you still have to work incredibly hard on a daily basis to stay relevant and maintain a healthy career. It never stops.
K.T.: How did you encounter Lynda.com? Do you plan to upload more courses?
J.H.: I met the content manager for the audio channel a few years back.  His name is David Franz and we are very good friends now.  It turned out that he lived in Boston, and I was living in New Hampshire, about 70 miles away.  We talked about getting me involved with authoring some courses and it flowed from there.  I don't have any plans to create any more courses for Lynda.com at this time.
K.T.: You teach Entertainment and Media Business at the Vatterott College Extreme Institute in St. Louis. What do you like the most in a lecturer's job? What do try teach your students? What methods do you use?
J.H.: I love the challenge of holding people's attention for long periods of time.  It's not that easy, especially when you're talking about music publishing.  That's not the sexiest conversation material, and it is difficult for most people to understand at first.  I teach my students to be leaders and be the CEO's of their own careers.  My teaching methods are very simple: treat them as peers, not students, and relate my experiences in the industry to the material that we are covering in the classroom.
K.T.: What kind of projects do your students have to do?
J.H.: I'll have them do projects along the lines of creating their own label and artist persona.  They also have to spend some time researching what good and bad publishing deals are, as well as learn about our Performance Rights Organizations (ASCAP, BMI, SEASAC).
K.T.: Modern technology enables everyone to create music. Do you think that young talented composers, especially electronic music, still have chance to come into being?
J.H.: Fantastic question. I do, however, their success in the business will largely hinge on their ability to learn and understand the business itself.  Making music is the easy part.  Running a career is extremely difficult. At its core, being in the music industry is an entrepreneurial endeavour.  Not everyone is cut out for that sort of life.
K.T.: There is an abundance of commercials in an American TV. Do any of them promote young musicians?
J.H.: What I have noticed over the last 10 years or so, companies like Apple are licensing music from up and coming bands and artists, and then featuring those songs in commercials.  Back in the early 2000's, Mitsubishi licensed "Days Go By" by Dirty Vegas and the commercial launched the song.  That group was not well known prior to that commercial.
K.T.: What features of character are the most important to become the CEO of your career?
J.H.: I would say discipline. Without discipline, nothing really gets done on time or at the required level of completion.  I am amazed by how many people I meet who want to work in this business, and they can't even show up to a meeting on time or respond to an email in a timely manner. It's shocking.
K.T.: When did you meet Phil Ramone, a deceased recording engineer, composer record producer and violinist? Did you work together? What did you learn from him?
J.H.: I met Phil at a convention back in 2008. He was the keynote speaker and was also promoting his book. We spoke for a few minutes after his lecture and he reminded me of a very important concept, "music first". In fact, that's the message he wrote in my book when he signed it. I wish I could have worked with him. He was amazing and leaves behind a fantastic body of work. He was one of my heroes.
K.T.: In the ONstl radio interview you said that "Indie captures the spirit of the art". What do you mean by that?
J.H.: I was referring to independent record labels, and how they allow their artists to realize their creative vision much more so than major labels do. When you sign a deal with a record label, you become an employee of that label, and then the whole Art vs. Commerce battle begins. Indie labels have a long history of allowing their artists to be artists.
K.T.: MEAKULTURA wishes all artists to become themselves. Thank you very much for the interview.