The mazurka is not dead! I was thrilled to say it, again and again, after attending a concert of Janusz Prusinowski Trio at EUropean Jazz @ UCLA on October 10, 2013 at the Schoenberg Hall in Los Angeles. The fact that the performance was included in a jazz series was interesting, because of the question of style that arises when listening to the music that is perfectly suited for dancing, yet modern and original, with improvisatory elements that resemble early New Orleans jazz and klezmer music.
What I found most fascinating about the Prusinowski Trio (apart from the fact that it is not a Trio, but has up to five or more members, but I'll return to the musicians later), is their ability to bring folklore and Polish national dances back to life as a relevant and popular genres of contemporary dance music. They make tradition come alive and this, I think, is their greatest achievement.  According to their website: Janusz Prusinowski Trio is a group of musicians who follow in traditions of village masters they have learned from: Jan Lewandowski, Kazimierz Meto, Józef Zaraś, Piotr and Jan Gaca, Tadeusz Kubiak and many others – but they are also an avant-garde band with their own characteristic sound and language of improvisation. They combine music with dance and the archaic with the modern.
The Trio consists of five musicians: Janusz Prusinowski – fiddle, voice, Polish accordion; Piotr Piszczatowski, – baraban drum, frame drum; Michał Żak – wooden flutes, shawm, clarinet; Piotr Zgorzelski – folk bass, dancing; and Szczepan Pospieszalski – trumpet. They do not hold advanced music degrees from universities. Their musical education comes from endless hours of playing music under the watchful eyes of the masters; through this "apprenticeship" they reached the heights of musical virtuosity. Their unique style modernizes and transforms into a truly contemporary music genre the folk songs and dances from villages of Mazowsze in Central Poland.
Their relationship to traditional folklore may be seen when listening to their three CDs, that show an evolution that includes both a gradual distancing from "authentic" folklore and a deepening of their relationship to it.  So far, the group has issued three CDs: Mazurki (Mazurkas), 2008; Serce (Heart), 2010; and Po kolana w niebie (Knee-deep in Heaven), 2013. These are masterly albums, highly recommended for all music lovers.  The first is the hardest to listen to as "music" for a young audience in California, as it still includes the rough, screeching voices of old ladies singing traditional tunes in a very traditional, abrasive, and, to my ears, unbearably ugly manner. That's why I did not become an ethnomusicologist when starting my studies at the University of Warsaw even though my grandfather was a folk fiddler: I could not stand the sound these women were making after opening their mouths. Nonetheless, the Mazurki CD includes just a few tracks with these "authentic" singers and the musicians are exquisite, so it is worthy of attention for everyone who does not share my anti-screeching bias. The arrangements differ from song to song, some bring the wildness of very fast obereks to life, some are wistful, or nostalgic with just a folk flute. Plus, the beautifully produced CD also features authentic "mazurek" recipes – in Poland the same name refers to the dance genre and to a festive cake.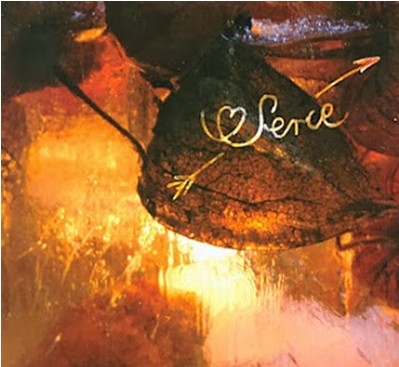 Luckily, the "original" timbre of folk singer's voice is gone from the second CD, Serce (Heart), where we hear, instead, the rich and sonorous baritone of Janusz Prusinowski; his voice is beautiful and smooth without being operatic, a balm for the ears.  This album starts and ends with two different songs about the Heart, in between is a kaleidoscope of folk music gone wild into realms you'd never thought Polish folk music could go. It recalls Chopin's nostalgic mazurkas, with their circular melodic patterns and flexible rhythms of tempo rubato. It resonates with the wildness of Turkish military bands, janczary, that Poland heard when the Ottoman Empire's army repeatedly tried to invade the country and was repelled at its borders (the most famously at the Siege of Vienna in 1683, when Poland defended Europe from converting to Islam, an effort wasted judging by the contemporaneous state of things…). The "Turkish-style" of music used piercing sounds of wind instruments, coupled with very low bass drums and cymbals, to motivate soldiers to march and fight (these sounds were chosen for their ability to carry across the battle fields). This style was then imitated by Mozart and Beethoven, and today, inspired also the Prusinowski Trio, that borrowed ideas from blues and blue-grass, and everything else in between.
As the Prusinowski Trio states, their unique style is the result of their attempt to find new ways of interpreting the most important elements of village music from central Poland. What new quality can be given to archaic and seemingly simple melodies and rhythms without resorting to trendy sample mixing? It turns out that traditional music of Polish villages can be a reference point for a variety of genres: reminiscent of Chopin in its melodic pattern and the use of rubato, sharing a love of improvisation with blues and jazz, evocative of contemporary music in its tone, and possessing the expressiveness of rock music.
This information, copied from the website www.januszprusinowskitrio.pl offers just a glimpse of the allure and impact of the Prusinowski Trio. They were a part of the Chopin Year 2010, for which they prepared a special program, with pianist Janusz Olejniczak, The village roots of Frédéric Chopin's music. In 2012 Trio begun a unique project "Kujawy" with three masters of Polish music: Tadeusz Kubiak, Tomasz Stańko, Janusz Olejniczak, and a group of singers led by Ewa Grochowska. They played with famous jazzmen: Michał Urbaniak, Artur Dutkiewicz and Alim Qasimov.
What makes their music so irresistible? Someone could say that it is "the wonderfully wiggly cross-rhythms – a triple beat but with stresses that can cross it in fours, fives or sevens – of the village mazureks (mazurkas) from Mazovia, Poland's flat central region" (quoted from an article in fRoots Magazine 2011 by Andrew Cronshaw). The reviewer cites Janusz Prusinowski's moment of discovery of folk fiddling in Poland: It was a revelation: the authenticity, intensity and ease that I had been looking for throughout the world existed right here, beside me, in my own language. For others, the music's appeal is heard in the wild, intensely emotional timbres of their instruments. The hollow beating of the drum, the spiky accents on the basetla, the florid ornamentation of the lead fiddler, and the wild, outrageous sound of the shawm…
Their sound world has the roughness and intensity of electric guitars and drums of rock bands. It is very far, indeed, from the polished, "beautified" folklore of Polish State Folk Ensembles, that created an ersatz of the real thing and transformed folklore into a Broadway style revue. That appropriation of Poland's root music has started in the early 1950s, by directive of the Stalinist government, and using, as its model the Stalinist art form created by Moiseiev Ballet in 1937, the year of unprecedented purges and widespread murders in Soviet Union. Right after the war, the Moiseiev Ballet created a program with folk music of the new "Eastern Block" countries and soon all these countries had ensembles just like Moiseiev's – Mazowsze and Slask in Poland. This turned youth away from their tradition, transformed into a propaganda vehicle for the glories of PRL. I discussed the impact that these ensembles had on the Polish folk dance movements in America in a book (Polish Dance in Southern California) and in an article, published in Polish American Studies in 2006 and recently reprinted, in a shorter, less academic version in the Cosmopolitan Review. Finally, this bonanza for the artificial replacing the original has neared its end; the government is not inclined to invest a fortune into perpetrating of this old style model and apparently Mazowsze is nearing bankruptcy.  It did have some merit, while it lasted, but authentic it was not… Enter the Prusinowski Trio…
When I spoke with some of the musicians after the concert in Los Angeles, they talked about the similarities of Polish folklore to the music of the Balkans and even of Turkey. They mentioned the polska dance of Sweden, and the mazurkas of France and Mexico. They are fascinated by the international reach of Polish dances in history; and today, contribute to this dissemination by their own art and international concert tours. The beating of the drum and the droning of the basetla permeate it all, steady and relentless, like the rhythm of the heart – I transliterated it as "I do, I do, I do…" in one love poem. The lively lines of the violin twist and turn, and move the listeners' feet to follow onto the dance floor. During the concert, one musician got off the stage and started rotating around the aisles with a woman, whom I was certain he knew before – and maybe even was part of the setup – they danced together so well!  The musician confirmed afterwards: Yes, they knew each other… No, they did not practice that dance. It just happened. Here's a wish that these types of spontaneous dance moments happen more and more both in Poland and abroad…
With the Prusinowski Trio, the mazurka can become a real dance again. Apart of concerts, the Trio's music can be heard at urban dance clubs, at folk parties and weddings, and at  musical and dance workshops. Why should Polish youth only dance to American or British hit songs and their Polish imitations? Why should a dance genre as old as the nation be abandoned for the sake of foreign imports? This conflict of the native versus the foreign, the patriotic versus the cosmopolitan has played out in Polish cultural history many times.  We all remember the famous lament of Juliusz Slowacki addressing his homeland: Pawiem narodów byłaś papugą… (You were the peacock of the nation and a parrot)…
Here, Poland's dance traditions certainly do not fall under the "parroting" label, as their music is clearly, and laudably "roots" music reaching back to the deepest traditions of Polish folklore, and bringing it back to the concert stages nationally and around the world. Their set of instruments is very traditional: violin, big drum and tambourine, accordion, clarinet (shawm), cello/double bass, cembalom… The model is that of a folk kapela: fiddle, drum, basetla…  They know ethnographers, such as Piotr Dahlig the director of ethnographic collections at the Institute of Arts of Poland. They are friends with jazz musicians and artists. They play for dance parties, weddings, private get togethers, and on concert stages around the world. They organize dance parties where people dance to their music, where they celebrate their roots with their "wild music of Polish villages."
The Mazurki CD includes music and some mazurka recipes, linking the dance to the Easter cake, just like I have done in my poem "How to make a mazurka" that commemorates my grandparents' talents – my grandma's cooking the mazurkas and my grandpa's playing them. I loved dancing around in a darkening room, with my shadow on the walls, while my grandpa played obereks and mazurkas on his violin, still with ribbons after playing at a wedding… You can watch the dance of the shadows in one video by the Prusinowski Trio on their website and enjoy the thought that all is well in the world of Polish folk traditions, becoming alive reinterpreted and cherished by innovative and creative musicians.
 How to Make a Mazurka
 Maja Trochimczyk
After Mazurka in A Minor, Op. 17, No. 4, for my Grandparents, Stanisław and Marianna Wajszczuk, who could play and bake their mazurkas like no one else
Take one cup of longing
for the distant home that never was,
one cup of happiness that danced
with your shadows on the walls
of Grandpa's house, while he played
a rainbow of folk tunes
on his fiddle, still adorned
with last wedding's ribbons
mix it – round and round to dizziness
stir in some golden buzz of the bees
in old linden tree, add the ascent
of skylark above spring rye fields,
singing praises to the vastness of blue
mix it – round and round to dizziness
add chopped walnuts, figs, dates
and raisins, pour in some juice
from bittersweet grapefruit
freshly picked in your garden
mix it – round and round to dizziness
add dark grey of rainclouds in Paris
that took Chopin back to the glimmer
of candles in an old cemetery
on the evening of All Souls' Day
mix it – round and round to dizziness
bake it in the cloudless heat
of your exile, do not forget to sprinkle
with a dollop of sparkling crystals,
first winter's snowflakes at midnight
——————-
Wpis pochodzi z: http://www.chopinwithcherries.blogspot.be/