I went to Paris in September last year, came back changed in October. An astounding city, full of history and charm. My purpose was to talk about Maria Szymanowska and visit and photograph places associated with Chopin. I found his grave and put a poem from Chopin with Cherries there. I went to the church where his Funeral Mass was held, with Mozart's Requiem (St. Madeleine) and I wondered about his empty chair and white evening gloves at the Bibliotheque Polonaise near the Notre Dame Cathedral.
The purpose of my trip was to give a paper about Maria Szymanowska, a Polish virtuoso composer-pianist, who preceded and inspired Chopin with her brilliant style, etudes, mazurkas and songs… Szymanowska (1789-1831) died young, too; Chopin was 39 when tuberculosis finally defeated him. Szymanowska – at 42 – went quickly, of cholera in St. Petersburg.
At the conference, I presented the first version of my poem about Szymanowska. After making some changes, I read it for the workshop of Westside Women Writers group and I received comments from Millicent Borges Accardi, Kathi Stafford, Georgia Jones-Davis and Sonya Sabanac. Here's the third version of this work in progress. I want to capture her life as I see it – she was dazzling, inspiring, enchanting, and disappeared all too quickly.
Who was Maria Szymanowska? We know her name as a predecessor of Chopin; he was studying in Warsaw when she performed there in 1827. Born in 1789 in Warszaw, Szymanowska's came from the family of Wołowskis, but used her husband's name professionally, during her European concert tours, even though she divorced him in 1820s. Her career as a virtuoso pianist was initiated with a short travel to Paris in 1810, and continued afterwards. Szymanowska was one of the most important Polish virtuosi of the first half of the 19th century, and also a composer who wrote in the delightful, stile brilliant of her contemporaries, such as Kalkbrenner or Hummel and early Chopin of the Piano Concerti. Her music was divided into two streams: virtuoso pieces for concert stages (etudes, polonaises, and variations), and music for home use, such as songs (including several Historical Chants to texts by Julian Ursyn Niemcewicz) and salon dances. She wrote about 120 pieces and helped establish the genres of romantic piano music, such as mazurkas, polonaises, nocturnes, and etudes.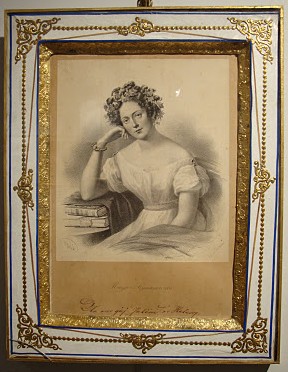 Lithograph based on a portrait by Maria Szymanowska by Jozef Oleszkiewicz, 1825. Framed print from the collection of Bibliotheque Polonaise in Paris.
As the first female pianist who supported herself and her family with her concerts and lessons, she performed several times in London and Paris; she also toured Germany, Italy, and Russia before settling in 1827 in St. Petersburg. Since l822, she was recognized as the Court Pianist of the Tsarinas (the Tsar's wife and mother) and she decided to settle in the capital of the empire, because it offered the best prospects for revenue from teaching the children of the aristocracy. In mid-1820s she managed to enchant Goethe, who wrote for her a poem entitled "An Madame Marie Szymanowska (Aussohnung). Known under the short title (which means "Reconciliation") it was included in the Trilogie der Leidenshaft, inspired by the poet's tragic infatuation with a young girl, Ulrike. Szymanowska's music, her empathy and beauty helped the aging poet return to his senses.
In the last years of her life, Szymanowska maintained a well-known literary and musical salon, which grouped aristocratic, literary and artistic figures – crème de crème of the Petersburg society. Her salon was also open to Poles living in St. Petersburg and was for them, a second home, an oasis of Polish language and culture. Performances in the salon included music-and-poetry evenings featuring the genre of the "melodrama" – where the poems are recited or improvised to musical accompaniment. Szymanowska also staged many "tableaux vivant" – which interpreted scenes from Polish and Russian literature. Her guests included Aleksander Puszkin and Adam Mickiewicz, whose inspired improvisations to Szymanowska's accompaniment were the main attraction for numerous evenings. She also composed songs to Mickiewicz's poetry, and he wrote a poem for her, the Queen of Tones (Their correspondence is discussed in a study by Grzegorz Szelwach published by PIASA in 2006).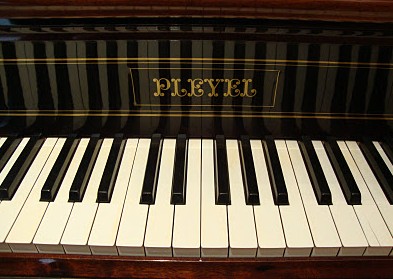 Keyboard of a 1845 Pleyel piano played by Chopin
To this poetic background, we should add the fact that Johann Wolfgang von Goethe considered Szymanowska the living embodiment of Das Ewig Weiblich, or the "eternal feminine" and he dedicated to her one of his last and most important poems, Aussöhnung. You can find out more about Szymanowska from a book by Slawomir Dobrzanski illustrated with his re-cording of selected pieces by this forgotten composer (published by the Polish Music Center in Los Angeles in 2007; I contributed a chapter on Szymanowska's songs) and from a new, annotated bibliography by Anna Kijas (2010) that documents the discovery of important, hitherto unknown source materials, in addition to reviewing all available publications about Szymanowska.
The neglect of Szymanowska as a subject of serious study is coming to an end. Initiated, planned and organized by singer Elżbieta Zapolska, the President of the Maria Szymanowska Society the First International Maria Szymanowska Conference took place in Paris on September 30 and October 1, 2011. The conference proceedings will be published in the annual journal of the Polish Academy of Sciences' Scientific Station in Paris, one of the co-sponsors of this important event. The Minister of Culture and National Heritage bestowed on this conference its honorary patronage and the sponsors and co-organizers included all major Polish institutions in Paris: The Historical-Literary Society/Polish Library, that organized a fascinating exhibition about Szymanowska and her times, as well as hosted the conference during its first day; the Polish Institute, that took care of the participants; and the Scientific Center of the Polish Academy of Sciences, the organizer of the second day of the conference. That day ended with a recreation of a Maria Szymanowska salon, featuring music and poetry performed by the participants in the symposium. Polish partners of this international project included also the Adam Mickiewicz Museum of Literature in Warsaw, Poland, where the majority of Szymanowska sources is found; she was a friend of the poet who later married her daughter.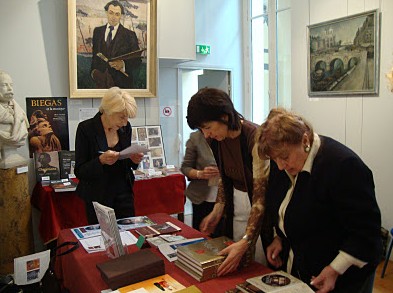 Elizabeth Zapolska with Prof. Irena Poniatowska review books on Szymanowska
The symposium is one of the main elements in Elzbieta Zapolska's project, Maria Szymanowska (1789-1831), A Woman of Europe, which will also include the release of a CD with all of Szymanowska's songs (Acte Prealable). Of the invited scholars Slawomir Dobrzanski did not come because he was, at the same time, recording his CD with complete piano and chamber music by Szymanowska, that will be released in the spring of 2012. The impressive group of scholars from around the world gathered in Paris included representatives of Poland, France, USA, Russia and Sweden (muzeumliteratury.pl/paryz-pierwsze-miedzynarodowe-seminarium-maria-szymanowska-1789-1831-i-jej-czasy/).
The first day of the symposium took place in the Polish Library on an island near the Notre Dame cathedral. The exhibition dedicated to Maria Szymanowska featured fascinating items from the collections of the Historical-Literary Society, such as previously unknown portraits of Szymanowska and her family, portraits of individuals from her artistic circle, first edition of her works, manuscripts and even personal items, such as satin slippers worn with evening gowns and precious jewelry. To see things that so insolently dare to outlive their owners has always filled me with melancholy. I was comforted at the second exhibition at the Polish Library, dedicated to Adam Mickiewicz and his cultural environment, where one can see an astoundingly beautiful, literally unknown portrait of Szymanowska as a Roman goddess, in the company of a putti, painted by Walenty Wańkowicz. I was very interested in this portrait because of the topic of my own paper, discussing the self-representation of Szymanowska as an artist and a lady. She "created" herself as a true stylist and image-maker of the 19th century. Thanks to this image, and not only to her piano talent, she became the court pianist of the Russian Empire and the teacher of countesses and princesses.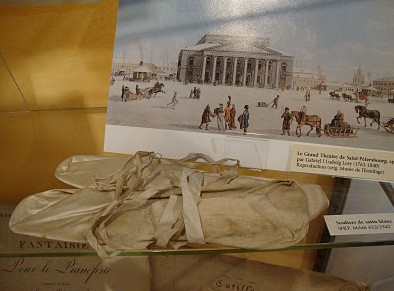 Maria Szymanowska's satin evening slippers and an image of Warsaw's Grand Theater of Opera and Ballet. Paris, Bibliotheque Polonaise
The symposium started from a lecture by Anna Czarnocka (Historical Literary Society in Paris) who discussed the archival materials associated with Maria Szymanowska in the holdings of the Polish Library. These materials were featured at the exhibition curated by Ms. Czarnocka for the conference. Another notable exhibit at the Polish Library is the Chopin Room, which recreates his last apartment, and features his chair, portraits, a lock of his hair, a death mask and a cast of his hand; rare documents and editions, as well as his piano. For the Szymanowska Symposium the 1845 Pleyel piano was taken downstairs and used in the evening concert.
Chopin's chair and gloves; the Chopin Room, Bibliotheque Polonaise in Paris
Prof. Irena Poniatowska (National Fryderyk Chopin Institute) introduced the composer as a "Grande dame of Polish music" and discussed, among other topics, her influence on Chopin and contribution to the development of genres of etude and solo song. French singer and musicologist, Florence Launay (author an extensive study of French female composers of the 19th century) introduced the music and biography of Sophie Gail (1775-1819), a singer and composer from the times of Empire and Restauration. Maria Rose van Epenhuysen (Dutch-American pianist and musicologist) discussed the life and four stylistical periods in the music of a French composer-pianist Hélène de Montgeroult (1764-1836), a talented aristocrat who survived the Revolution, lectured at the Paris Conservatoire and wrote songs and piano music.
We heard the music by Gail and de Mongeroult during the evening concert, in the context of contemporary works by Francois-Andrien Boieldieu and Jan Ladislav Dusek, who was de Montgeroult's teacher. During the discussion about early female composers I informed my colleagues about the discovery of more than a dozen of Polish women composers of the 19th century whose life and work remains still unknown. Some of these composers belonged to the creative circle around Duchess Maria Czartoryska-Wirtemberska, a patriot and writer. Maria Wirtemberska was the sponsor of the project of Historical Chants written by Julian Ursyn Niemcewicz and set to music in 1816 by a group of composers, including also Maria Szymanowska and Princess Zofia Zamojska. During the conference, musical interludes were provided by eminent pianist and musicologist Jean-Pierre Armengaud.
The symposium continued on October 1, 2011 in the palatial ballroom of the Paris Station of the Polish Academy of Sciences, the centerpiece of an elegant palace purchased by the Polish government in 1946. Adam Gałkowski (historian from the University of Warsaw) discussed the history of the family Wołowski, discussing its links to the Frankist sect and the branch of the family that emigrated to France in the 1830s. Ewa Talma-Davous (Polish-French musicologist) discussed the history of the friendship between Szymanowska and Pierre Baillota, a French violinist and composer; she illustrated her lecture with letters and music that was previously unknown.
Dr. Benjamin Vogel, expert in the history of romantic pianos talked about Szymanowska's preference for instruments, based on the documentation from piano maker archives and portraits of the pianists with instruments. One source was her portrait by Aleksander Kokular painted in 1825 in Rome, with an impossible keyboard, spanning seven octaves. Another source were factory books of John Broadwood & Sons in London, where Szymanowska bought a piano in 1826.
Jean-Pierre Armengaud presented a long study of Szymanowska's compositional and pianistic technique, illustrating his ideas with musical fragments. He focused, among other issues, on the influence of Szymanowska on Chopin. Elena Gretchnaia (literature professor representing both the Academy of Sciences in Moscow and the University of Orlean) studied the Russian artistic circles of Szymanowska, based on the inscriptions in her famous "Sztambuchy" (Manuscript books). I talked about the artistic, intellectual and social image that Szymanowska created for herself and that was recorded in a series of her portraits, an important iconographic source. Her elegant but modest dresses and hairstyles were modeled on the style of aristocratic ladies of France and Russia, such as Duchesses Golicyna and Wołkońska, Countess de Berry an d Tsarina Alexandra Feodorovna, the wife of Nicolas I.
The Maria Szymanowska Symposium ended with an improvised concert – reproducing in modern times an evening in Maria Szymanowska salon. The evening, planned and hosted by the organiser of the Symposium, Elżbieta Zapolska featured scholars as musicians, singers, and poets. Elżbieta Zapolska, Maria Rose and Florence Launay played and sang vocal and piano music by Szymanowska, Gail, Boieldieu and Field. Highlights included the Ballade Alpuhara accompanied by the French translation of the text and the Desdemona's Romance from Shakespeare's Othello, with original and French texts. Maria Rose recited Goethe in German, Beniamin Vogel read Mickiewicz's poem notated in her Sztambuch in Polish and I read three of my own poems in English, dedicated to Chopin ("How to make a mazurka" from the anthology Chopin with Cherries, 2010), Mickiewicz (Ode of the Lost), and a new poem about Maria Szymanowska.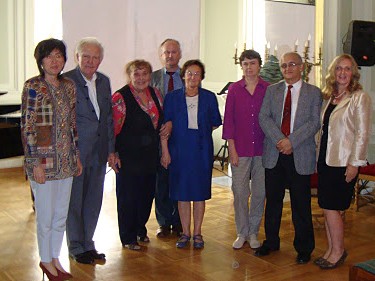 Conference participants: Elizabeth Zapolski, Jean-Pierre Arganault; Irena Poniatowska, Adam Galkowski, Irina Gretchanaia, Eva Davos-Talma; Benjamin Vogel, Maja Trochimczyk
The first international symposium about Maria Szymanowska presented new information about her, and helped to better understand her achievements in the context of Polish, French and Russian culture of the first half of the 19th century. Scholars discussed poetry, music, painting , and geneaology of Szymanowska's family. Even the fashion history attracted scholarly attention, as befits an event held in Paris during the October Fashion Week 2011.
_________________________________________
Photographs by Maja Trochimczyk and conference participants.
Saturday, November 12, 2011, za: http://chopinwithcherries.blogspot.com